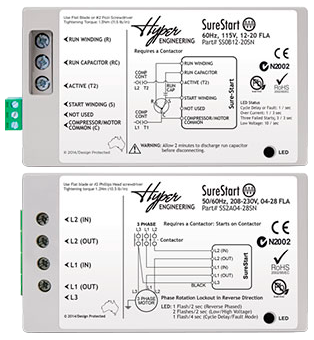 Give large compressors and motors a soft start and extend their lifetime
The SureStart® soft starter ensures that compressors start optimally every time by delivering exactly the right amount of torque. This is made possible with leading product technology that reduces the starting current dramatically and adjust the torque to exact need.
Maximizing starting efficiency has many advantages. Not only does it reduce light flickering by up to 10 times, it also reduces noise and vibration at compressor startup.
Added to this, the soft start also reduces mechanical stress, which extends motor lifetime.
Single Phase
• 115 Volts
• 220-240 Volts
Three Phase
• 208-230 Volts
• 380 Volts
• 415 Volts
• 460 Volts
HVAC/R
Irrigation/submersible pumps
Compressors
Marine/RV
Solar power
RV/trucks
Military/government
Backup generators