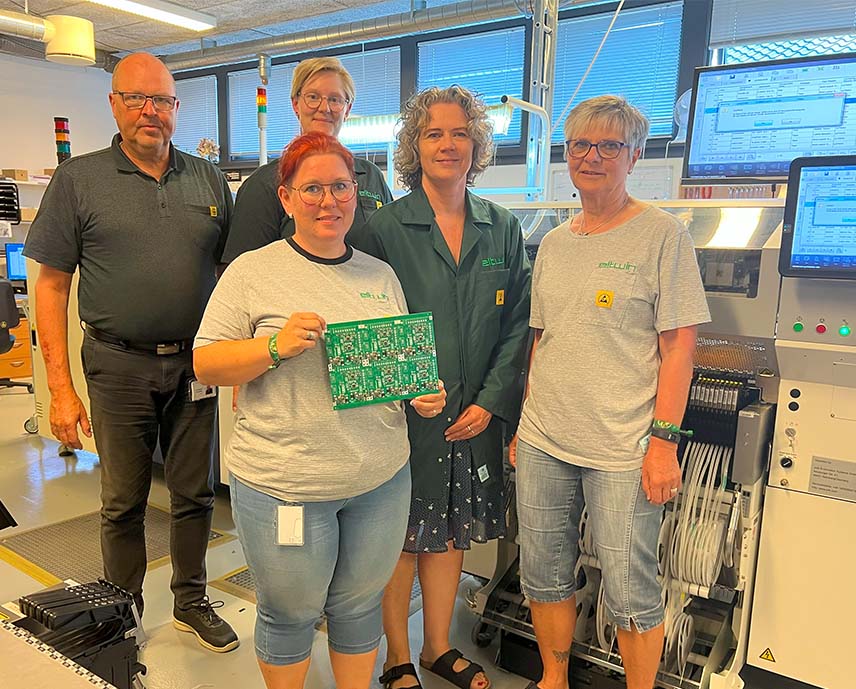 Partnership with Engineers Without Borders
Image: Eltwinners with the final prototypes
Empowering Communities - Monitoring Water Towers in Sierra Leone
Eltwin Group has always been passionate about supporting initiatives that create a positive impact on society. One such endeavor that has greatly inspired us is our recent partnership with Engineers Without Borders (EWB), Denmark, a technical-humanitarian organization dedicated to improving the living for people in some of the least developed countries and ensuring local anchoring by providing technical solutions. One project is providing safe drinking water.
"For some time, we looked for a partnership combining our skills in power electronics and manufacturing with humanitarian work," explains CSR & Marketing Manager, Joan Møller Rusbjerg. "And the partnership with Engineers Without Borders is a wish come true."
The Importance of Monitoring Water Towers
Access to safe drinking water is a fundamental human right, yet millions of people in the Global South still lack access to this necessity. Insufficient infrastructure and maintenance contribute to the challenges faced by communities in obtaining safe drinking water.
Water towers play a vital role in storing and distributing safe drinking water to communities. However, without continuous monitoring, these essential structures can deteriorate, leading to disruptions in the drinking water supply. Regular monitoring is essential to identify potential issues early on, ensuring timely maintenance and a steady supply of safe water.
New generation of the EWB Monitor
Since 2018 Engineers Without Borders has used the EWB Monitor for monitoring the functionality and water consumption of community water towers providing safe drinking water in both rural and urban areas of Sierra Leone. The monitor was developed by Engineers Without Borders, Denmark, and the University of Southern Denmark, who now have designed a new generation in collaboration with DIS - CREADIS Engineering Solutions & Consulting.
So far, Eltwin Group manufactured prototypes of the new generation for the software to be installed and tested. The final production takes place later this summer.
At Eltwin Group, we have been proud participants in this project. Our dedicated team has manufactured prototypes of the new generation EWB Monitor, allowing for the installation and testing of the software. We are excited to announce that the final production is scheduled to take place later this summer, bringing us one step closer to making a lasting impact.