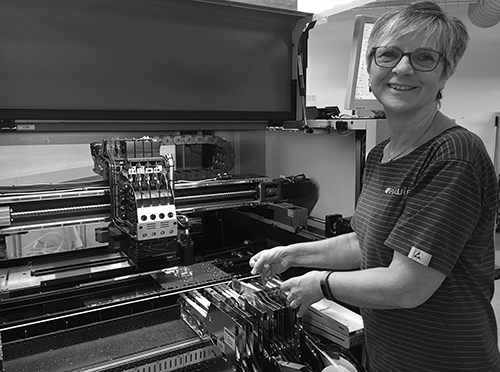 Marianne Rask celebrates 40-year Work Anniversary
Marianne Rask, Surface Mount Operator, celebrates her 40th anniversary at Eltwin Group.
Marianne started her career in 1978 as a HMT Line Operator in a company, which Eltwin acquired in 1996. After 10 years specializing in the trough-hole-technology, Marianne was educated in the new surface-mount-technology and became quickly a skilled operator. Today Marianne still is a part of the Danish SMT team. Her responsibilities include programming, setting-up the SMT machines and quality control and Marianne carry those responsibilities out with great experience and expertise.
About her 40-year work life with Eltwin, Marianne says, "Electronics is my true calling. The diversified and busy manufacturing environment boosts my energy levels. I especially like the detailed hand assembly work, the quality inspections and being physical active. I walk at least 10,000 steps a day."
Marianne continues on the Eltwin culture, "As an employee, I always feel recognized and respected. That's why Eltwin is a place you'll stay."
In celebration of Marianne's 40th anniversary, the Eltwin Group hosts a reception for all employees in Denmark.
We truly appreciate Marianne's loyalty and commitment and congratulate her achieving this milestone. We look forward to a continued successful cooperation.