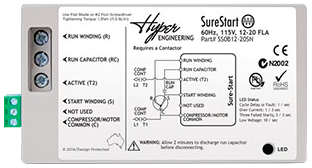 The SureStart® - single phase
Give large compressors and motors a soft start and extend their lifetime
The single phase soft starter provides a dramatic reduction in start-up current, typically up to 70%, but still provides enough start-up torque for compressors and motors.
This will eliminate light flicker, reduce start-up noise, and extend the life of the motor or compressor. Single phase soft starters are suitable for 1.75 to 7 horse power (hp) motors in the 220/230V models and are suitable between 0.75 to 1.75 hp for the 115V models.
Plus, all single phase models work in both 60Hz and 50Hz applications.
• 115 Volts
• 220-240 Volts
HVAC/R
Irrigation/submersible pumps
Compressors
Marine/RV
Solar power
RV/trucks
Military/government
Backup generators
Automatic adjustment to cover the range of 1.75 to 7 hp
Fully self-contained in a conveniently small, double-insulated and flameretardant enclosure
SureStart® is out of the circuit after startup. It consumes less than 2W average in running mode
Reduce inrush current up to 70% at startup
Reduce light flicker by up to 10 times
Reduce startup noise and vibration
Avoid torque stress fracture on pipes
Automatic optimization of motor startup current
Reduce the voltage dip in the power line during startup
Reduce mechanical stress and prevent over-heating of compressor

Easy installation with supplied wiring

Motor Protection Functions
Protects the compressor/motor from stalling at low voltages
Delay function limits number of motor starts per hour
Provides motor reversal protection during short power outages
Internal delay timers prevents rapid cycling in fault conditions
Provides brownout protection
Self-testing diagnostics
• SS0B12-20SN (115V, 60/50Hz, 12-20 FLA)
• SS1B08-16SN (230V, 60/50Hz, 08-16 FLA)
• SS1B16-32SN (230V, 60/50Hz, 16-32 FLA)
Direct On Line Compressor Comparison