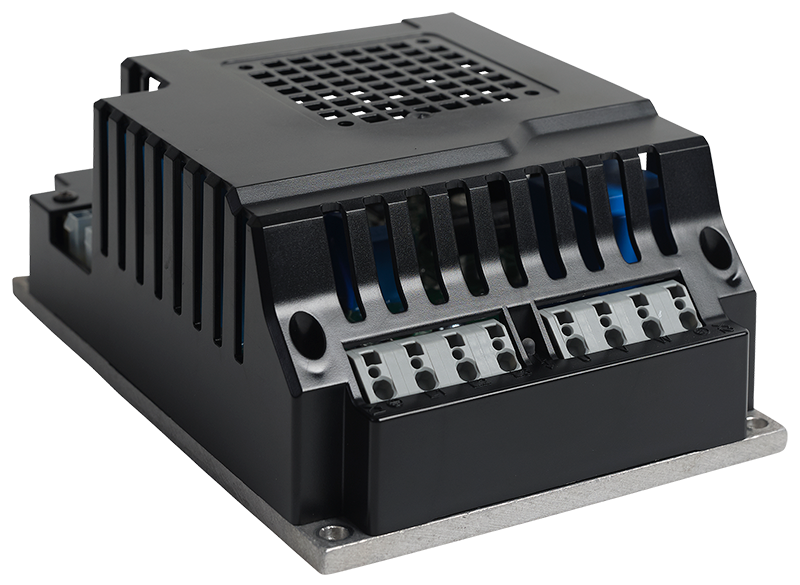 Maximum design freedom with modular building blocks
The EC PURE Drives are actively cooled compact and modular EC drives that can be customized to meet your specific application needs. Thanks to the modularity, you can apply filters and power factor correction (PFC) if, and where, you need it.
What makes the EC PURE Drives family special, is its customization. Building on a platform of high-quality standard features, e.g. compliance with railway standards regarding vibrations, we can tweak the product in a number of ways to perfectly match your application needs. This enables you to combine the best of two worlds: a well-proven foundation and the design-freedom to create a unique product.
The solution is plug & play. This allows you to get going without wasting precious time reading a never-ending manual.

Supply voltages and power range
Voltage:
• Single phase: 180-260 Vrms 50/60 Hz
• Three phase: 310 - 460 Vrms 50/60 Hz
Power:
• Single phase: 2.2 - 2.9 - 4.4 - 8 kW
• Three phase: 5.5- 7.5 kW
The EC PURE Drive is suitable for various different applications. To help give you an idea of the product in use, we have listed the most popular applications below.
Heat pump compressors
Water pumps
Conveyors
To ensure the most energy-efficient and reliable operation, the EC PURE family is able to drive different motor types – both permanent-magnet motors (PM motors) and standard non-synchronous induction motors, using sensorless field-oriented control and V/f, respectively.

Ensure reliable and efficient operation in different applications thanks to the robustness of the motor-control algorithm
Improve installation time and operation with a plug-&-play product designed specifically to fit your application needs
Ideal for mounting inside the application with a an IP20 rating as standard
Improve design-freedom with the modular and compact design allowing you to fit the EC drives into small systems
Strengthen your footprint. The products are small in size, which not only means they are easy to fit into small systems – it also means we can reduce cost on transportation and material consumption to improve your environmental impact
Let's build the EC drives you dream about
PURE is actively cooled, and you can choose between water-cooling or aircooling.
PURE can do both.
Do you prefer an analog or digital signal? Again, we can do either.
Should the product be mounted with screws? Or maybe you want easy mounting with a DIN rail? We adapt the mechanical adjustments to meet your needs.
Looks do matter – even when it comes to EC drives. Therefore, we will design PURE to match your corporate identity with colors, labels etc.
Do you plan to use the EC drives in explosive environments? No problem. The product comes in two versions: a propane version and a standard version.