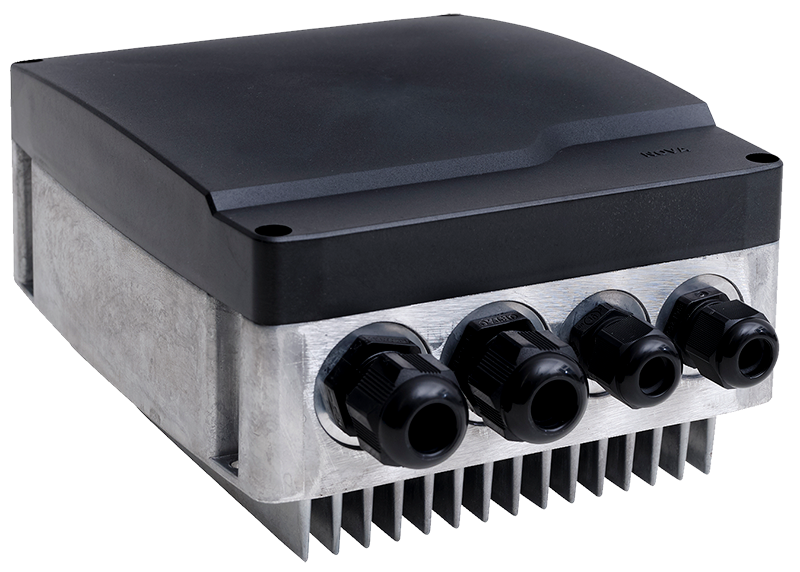 Optimum power wherever you need it
The EC NOVA Drive is a compact EC drive that can be customized to meet your specific application needs. The product can be both actively and passively cooled and offers an IP54 rating as standard, with the flexibility to adjust it to your needs, which makes it the optimum solution in difficult environments.
With NOVA, you have the chance to customize the product. Building on a foundation of high-quality standard features, we can tweak the product in a number of ways to
perfectly match your application needs. This enables you to combine the best of two worlds: a well-proven foundation and the freedom to create a unique product.
The solution is plug & play. This allows you to get going without wasting precious time reading a never-ending manual.
Supply voltages and power range
Voltage:
• 230 V +/- 10% full functionality
• 230 V - 20% reduced functionality

Power:
• Power level: 200 - 2400 W
• Specific levels: 200 / 550 / 1100 / 2400 W

The EC NOVA Drive is suitable for various different applications. To help give you an idea of the product in use, we have listed the most popular applications below.
Air-handling units
Compressors used in heat pumps/air condition units
Water pumps
Conveyors
Refrigeration
To ensure the most energy-efficient and reliable operation, the EC NOVA Drive works perfectly together with different motor types – both permanent magnet (PM) motors (high efficiency), standard asynchronous induction motors (high start torque), and BLDC motors (cost efficiency).
Increase operation options as the product is water splash protected (rated IP54). The IP rating can be adjusted to match your needs with a rating up to IP67
Allow for operation in still-air environments, e.g. a ventilation system, with passive and active cooling
Ensure reliable and cost-effective operation in demanding environments, e.g. compressors, thanks to its robustness
Improve installation time and operation with a plug-&-play product designed specifically to fit your application needs
Increase usability thanks to the compact design that fits into small systems

Strengthen your footprint. The products are small in size, which not only means they are easy to fit into small systems – it also means we can reduce cost on transportation and material consumption to improve your
environmental impact
Explorer our EC NOVA drives and all the features end benefits in this video.
Explorer our EC NOVA drives and all the features end benefits in this interactive 3D presentation.
Let's build your next star EC drive
Should your product be water-cooled or air-cooled? NOVA can do both.
Do you prefer an analog or digital signal? Again, we can provide either.
Should the product be mounted with screws? We adapt the mechanical adjustments to meet your specific needs.

Looks do matter – even when it comes to EC drives. Therefore, we will design NOVA to match your corporate identity with colors, labels etc.
Do you plan to use the EC drives in wet environments? No problem. NOVA can be designed according to different IP ratings up to 67.