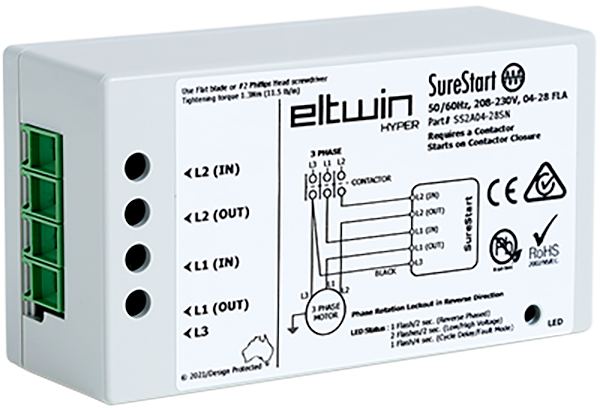 Give large compressors and motors a soft start and extend their lifetime
Get rid of the damaging start-up torque and achieve over 40%* reduction in compressor startup current with our range of three phase Surestart solutions.
The three phase soft starter is designed to significantly reduce start-up current and noise in many three phase motors.
The start-up current can be reduced by approximately 50% without compromising the start-up torque required.
Three phase soft starters are designed to cover a wide range of voltage models for 2 to 20 hp sized motors and are available in both 60Hz and 50Hz models.
• 208-230 Volts
• 380 Volts
• 415 Volts
• 460 Volts
HVAC/R
Irrigation/submersible pumps
Compressors
Marine/RV
Solar power
RV/trucks
Military/government
Backup generators
Reduce inrush current by up to 50% at startup
Voltage protection from brownout and intermittant power failure

Automatic optimization of motor current

Extends life by reducing stress and heating of compressor/motor

Allows systems to meet certain utility requirements

Auto-Start on power up with no requirement for auxiliary control power

Easy installation with minimal wiring required

Motor Protection Functions
Low voltage / high voltage shutdown
Provides phase reversal protection
Delay function limits number of motor starts per hour
Internal timing prevents rapid cycling faults
Provides brownout protection
Prevents fatigue failure of motor bearings, piping and motor foundation structure
• SS5A04-27SN (460V, 60Hz, 04-27 FLA)
• SS4A04-34SN (415V, 50Hz, 04-34 FLA)
• SS3A04-27SN (380V, 50/60Hz, 04-27 FLA)
• SS2A04-28SN (208-230V, 50/60Hz, 04-28 FLA))
Direct On Line Compressor Comparison