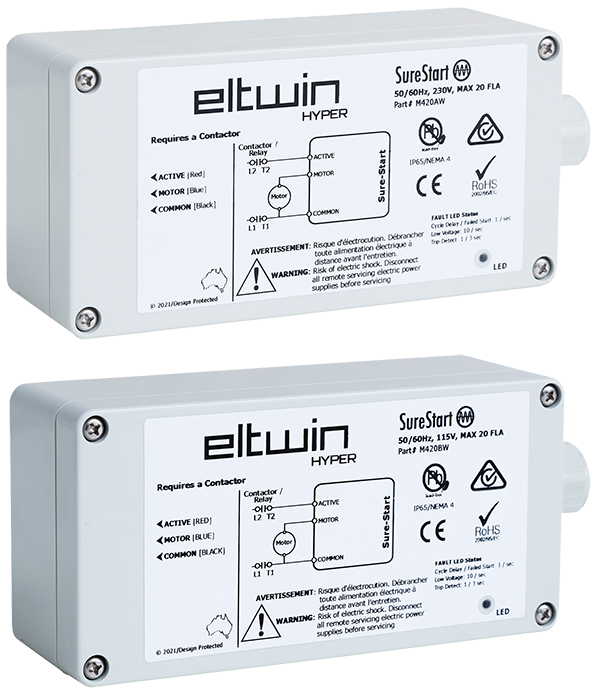 SureStart® M-Series Motor Soft Starter / Single Phase
Meet the innovative SureStart® M Series, a unique format of single-phase soft starters enabling the safer and quieter operation of multiple off-grid applications.

With the M Series, each start-up is dynamic: it intuitively matches the motor's startup demand to the backup power capacity allowing a wide range of pumps and motors to run on that backup power.

Plus, with our proprietary ANTISTALL© feature—combined with the M Series' standard low voltage protection—motors can start up and run through an off-grid power source without stalling the generator or tripping the back-up inverter.

And, of course, it's an easy-to-install, three-wire solution packed in a fully weatherprotected NEMA4 enclosure for the ultimate reliability.
Pumps
Compressors
Bench grinders
Lathe Motors
Other Motors with low interial load
Run multiple pumps and motors on backup power
Minimizes internal mechanical damage of submersible pumps by eliminating kick-back effect

ANTISTALL© protection prevents stalling of the generator or tripping the inverter back-up

Prevents expensive back-up power upgrades in new and existing installations
Works seamlessly with both inverter and fixed-speed generators
Reduces supply line voltage sag during start-ups
Continuously monitors the running mode to prevent motor burnout
Provides overall safer and quieter starts
Delivers a seamless soft start upon restart after thermal overloading
Fully self-contained in a NEMA4/IP65-rated enclosure with a rugged UL-V0 flame-retardant housing

Auto-detects and starts load upon closure of all safety switches

Auto-adjusts to any motor size with applicable ratings
Compact, modular, and lightweight design measuring under 190x80x60mm and weighing under 450g
Easy fault diagnosis with an LED indicator

One soft starter unit per motor
Motor Protection Functions
Protects the compressor/motor from stalling at low voltages
Delay function limits number of motor starts per hour
Provides motor reversal protection during short power outages
Internal delay timers prevents rapid cycling in fault conditions
Provides brownout protection
Self-testing diagnostics