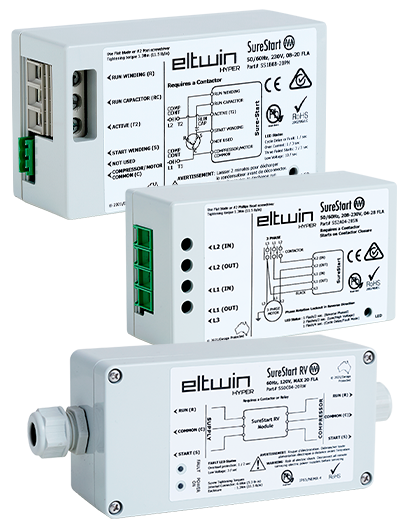 Start compressors and motors on backup power and enhance their lifetime
Eltwin Hyper SureStart ensures your compressor and motor starts smoothly on back-up generator or battery power. It comes packed with a comprehensive range of protection features and it allows the user to minimize annoying start-up noise and light flicker. Our efficient and reliable soft start technology is well endorsed globally by a wide range of industries including residential air conditioning, heat pumps, marine, RV and critical military applications.
Our extensive offering spans across both single and three phase applications. All Sure-Start soft starters are equipped with auto-optimization to adapt to a wide range of compressors and motors without any user interface, and are easy to install.
All Sure-Start products are fully approved under CE and UL standards and also ensure compliance to RoHS, REACH, 3TG and Prop65 regulations.
Single Phase
• 115 Volts
• 220-240 Volts
Three Phase
• 208-230 Volts
• 380 Volts
• 415 Volts
• 460 Volts
For use on compressors/motors*:

Residential Air Conditioning
Geothermal Heat Pumps
Marine air conditioning
RV air conditioning
Cold storage
Submersible Pumps
Customized solutions: Military/Government/Industrial
* All models are optimized for use with off-grid power sources like back-up generator, solar-inverter/battery.
Check out our the range of Eltwin Hyper SureStart ®